Just
got this comment from Maxwell
that really demonstrates how a certain kind of laziness has
infected
the game. I am talking about standardized character sheets.
They started off usefully enough: cover the basic stats and details so that people didn't have to keep writing "strength" and "constitution" out every time they rolled up a new character ("str" and "con" didn't save enough time).
But then the character sheet was transformed into a time-saving device for DMs who were too lazy to look up saving throws, weapon damage, a complete list of existing skills (including those the character does not possess) and other basic details for which tables were made. Not only were these things not part of the actual character (they describe the character's random relationship to the world), but the existence of these things in the face of the player actually takes away from some of the game's drama.
There is an important moment of uncertainty and unease when a character is told to make a saving throw. I
never
tell characters what their saving throw is for or what they have to roll. If possible, I like to wait until the roll is made before looking it up. The saving throws are on my wiki, so anyone CAN look them up, but since they often don't know what they're making a saving throw for (as the attack is hitting them from the dark, as it were) this isn't always helpful.
Why do I do this? The same reason the camera takes time to pan from left to right when we're introduced to the main character. TIME is relevant. TIME creates drama. A pause is one of the most important dramatic identifications - and when you eliminate that time by having the player know in advance that a 13 will save their life, the player rolls the dice and knows before there is time to create anything, much less drama.
But I have had a player come into my world and diligently write down all this information because they must have it at their fingertips or else they can't feel comfortable playing. That's an excellent sign of a player who has gotten really, really used to being in control at the table. They've learned to game the game through knowing as much as they possibly can - and it is unnerving to have a DM who takes that all away from them by denying them knowledge they think they deserve to have.
Fact is, sometimes there is a modifier to the saving throw because of the monster being faced. Sometimes, the world just isn't what it seems to be. Players have to adjust to that.
Now, if I'm rolling the die, it's different. I will virtually always tell them what I need to hit or what I need to save - because I'm not looking to give myself drama. I'm presenting drama - and that means I can make up for the player knowing what I have to roll by not rolling the die. Remember how I just said the player will roll as fast as possible, knowing the result? It is the opposite for the DM. I will roll as
slow
as possible, to build up as much tension as I can before that die hits the table.
Fucking character sheets. Burn them. Burn them all. How in the hell can you bring in a new player into your campaign if it starts with introducing them to a page that looks like a fucking tax form? Are you kidding me? I swear:
make your players copy out their character sheets by hand
and then burn them in blazing, sacramental act of cleansing. Then make it clear: you never want to see another damn character sheet at your table, EVER.
Not only do character sheets make the creation of the character convenient and easy, they make an imprisoning box that denies all personality and life. Look at this sheet I've found off the net:
Flora's character sheet
: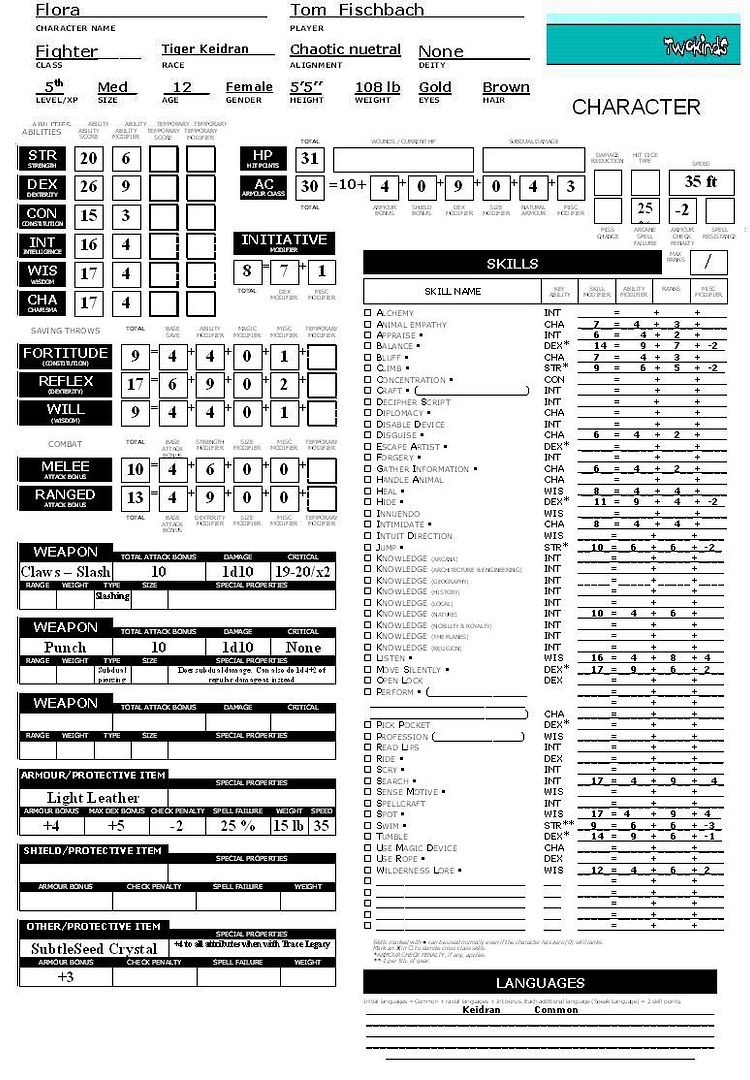 The most interesting thing about this sheet is that
"Flora" must be a person. And don't geek out over
the numbers: anyone can write out a higher number.
This thing is dead. There's no room on it for personality, for identification or for anything that suggests an actual live person is supposed to be represented by this insensate, spiritless computer throw-up.
Compare it to this:
Oh my gawd, I want to hug this character sheet. This is a bloody work of art. This character sheet has acquired
consciousness
. The reader may think it a jumble; or inconvenient; but it makes perfect sense to the person who created the sheet, who can look at the scratched out parts behind the lettering and knows what those things mean and how they were acquired. This sheet is riddled with scars.
There is no comparison.
Want to make your players care about their characters? Get rid of the sheets.