I haven't had many pure campaign thoughts lately, but this has occasionally teased at me. One of the benefits of running the real Earth as a world, as I do, is that there comes a lot of social baggage that turns useful now and then. For example, that the weapons that exist in the world can be identified with a locality. The spear or the dagger with the Italians, for instance, or the pike with the Swiss, the axe with the Germans and Scandinavians, the short bow with the Turks, the scimitar with the Arabs, the busacca of Arica and so on.
Some time ago, on pressure brought from my players, I got rid of level limits for non-human races . . . which I balanced with my mass hit point system, that gave
marginally
more hit points to humans because they're bigger and therefore more meaty. But still, humans have no special bonuses, unlike elves, dwarves and so on, and I was thinking that perhaps a bonus might be offered for the weapon (or possibly other cultural benefit) associated with where the human comes from. I already use a table that determines the origin of characters (based upon where the character is found in my world, similar to the manner in which goods are distributed), so that means the bonus would be randomly generated also.
If your human character turned out to be from Russia, you might be tempted to make the pole axe your choice weapon, simply because you received an automatic +1 to hit with it, like an elf with a long sword: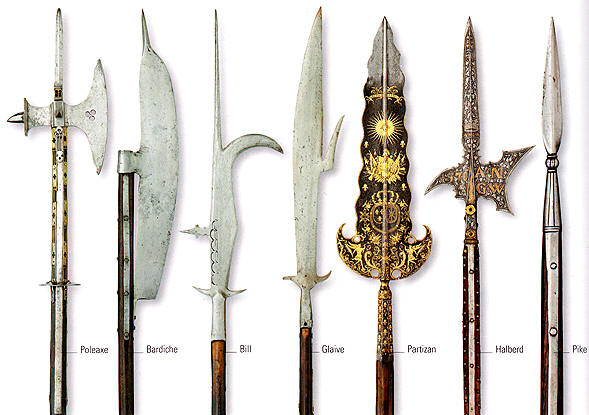 It really does make sense. If you're a fighter, trained in your native land, it's only natural that your training would more likely be in the use of native weapons. It follows from there that a Russian would be more adept with a partisan that a Spaniard, who would perhaps find it easier to use a rapier and dagger simulataneously (the dex penalty would be reduced, rather than offering a 'to hit' bonus for either weapon).
This makes sense to me. It also makes sense that Norwegians, Swedes, Finns or Russians might be better at fighting bears, while Egyptians, Berbers and Sudanese would be better at fighting elephants. There might be a whole host of little benefits, some of those being additional benefits being applied to dwarves, elves, half-orcs and so on.
Haven't settled down to any design, but I think it would be a fun angle to play around with.